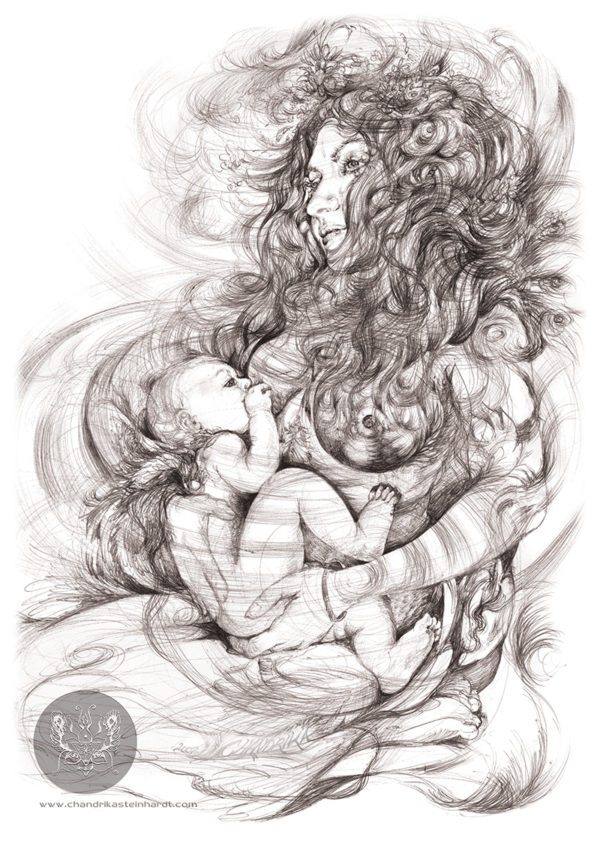 Evolving WoMan Art Music Healer collaboration presents a new development in stage 2 of this ongoing collaborative project: 'Evolving WoMan – Divine MotherChild' has been impulsed by the audience response to the Motherchild concept.
Due to the warm response to Motherchild sketch in recent fb post, and the real life story behind it's creation, the audience has indicated there is a need for:
'We acknowledge and pay our respects to All Mothers, All those in a role of Mother, and All Grandmothers, both past and present.'
Evolving WoMan is offering a percentage of this beautiful professionally lit gallery space for Mothers and Children who would like to exhibit one A3 size Drawing or Painting, a work of art that depicts 'Evolving WoMan – Divine MotherChild'. Specifically bringing to light the Spiritual, or feeling heart aspect of the MotherChild relationship.
Children of all ages 0 – 18 are invited to exhibit free, ONE painting.
Your painting will be displayed in the second half of this event from 24th October to the 7th November.
Works are to be delivered to Curator by 22 October 2018. Your artwork is in the theme of describing the love you have for your Divine Mother…Mum, Mumma, Mom.
Artist Mothers may express their depiction of their own Mother bond, or their own sacred conception to birth experience. Including your connection to your concept, your view of a spiritual Mother, a Planetary Mother and/or Gaia Conscious Art.
Sacred and Devotional Art, Sacred Birth, Sacred Mother, both physical and Ethereal, Religious or New Age interpretations of 'Divine Mother' are most welcome to be seen and witnessed alongside the incredible painters in this exhibition.
Mother and Children Artists are simply to express the loving bond they have for their Divine Mother. Please see event page here 'About' for details of how to participate. Contact evolvingwoman@chandrikasteinhardt.com to participate in this round or the next exhibit to be held in six to twelve months time in Melbourne.