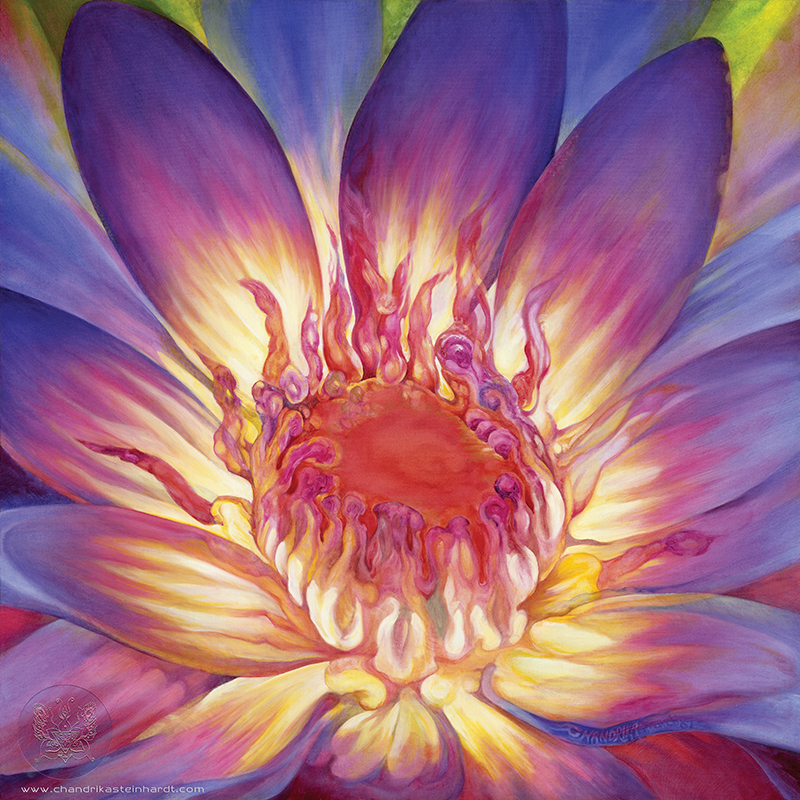 SOLD ! Full size 1m x 1m LOTUS LILY. I am excited to share that i just sold a full size reproduction of 'Lotus Lily' to a gorgeous Soul Sister in Kuala Lumpur, to contribute her beautiful Healing Centre!…
It is so surreal to have the large reproduction in my hands momentarily before posting…buzzing! Now to lovingly hand sign and give her wings!
The original purple petal-ed painting is in the home of my beautiful daughter, and was inspired as a gift for her 21st birthday. A lot of love went into it. But it was also a rather difficult transition as an artist, to take a more linear approach, after over seven years off grid introspection developing my personal technique and style.
My daughter beckoned me back to the main stream reality world to give her this 21st birthday gift. She said, "I don't want it to look numinous Mum…I want it to look like a photograph of the real Lotus Lily".
So after years of diligently traversing the inner realms of deep sub-conscious Jungian Visionary creative process, her request molded me to make a compromise by laying in the form of a real lotus lily, logically first… and then allowing the numinous freedom to speak in the Inner Circle/Inner Flower part.
Years later a friend suggested that if you look closely, it can look like a 'pool of peace' surrounded by a group of dancing meditators…with a little Buddha immersed in the waters of life…a pool of peace.
Moving on… to now…I had a vision a few years ago to make a 'POP ART REMIX' of this painting, and now it has came to form.
The original is purple petals.
Now we have four other…
SISTER LOTUS LILIES…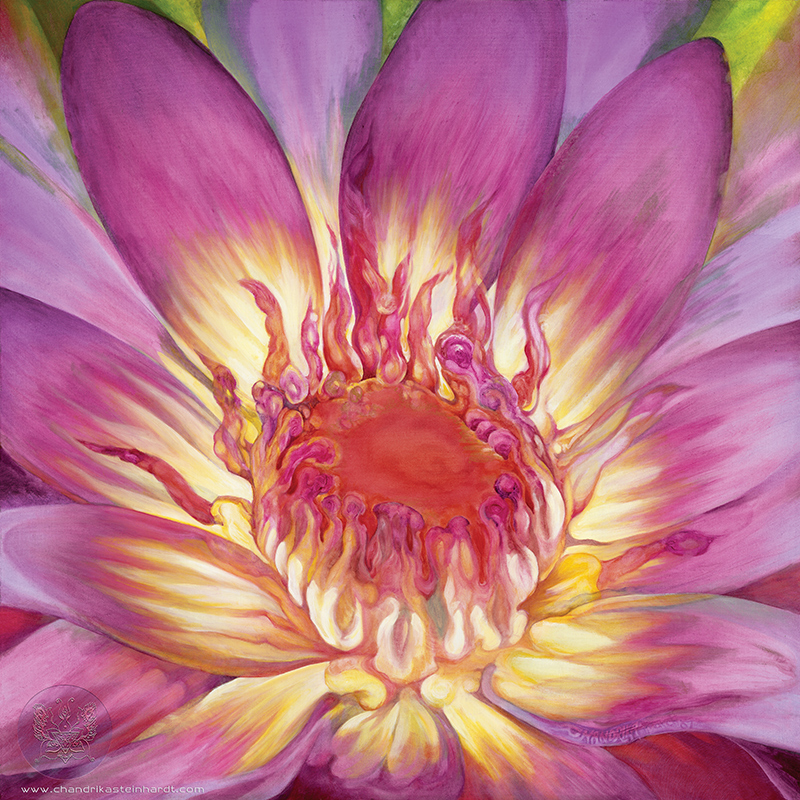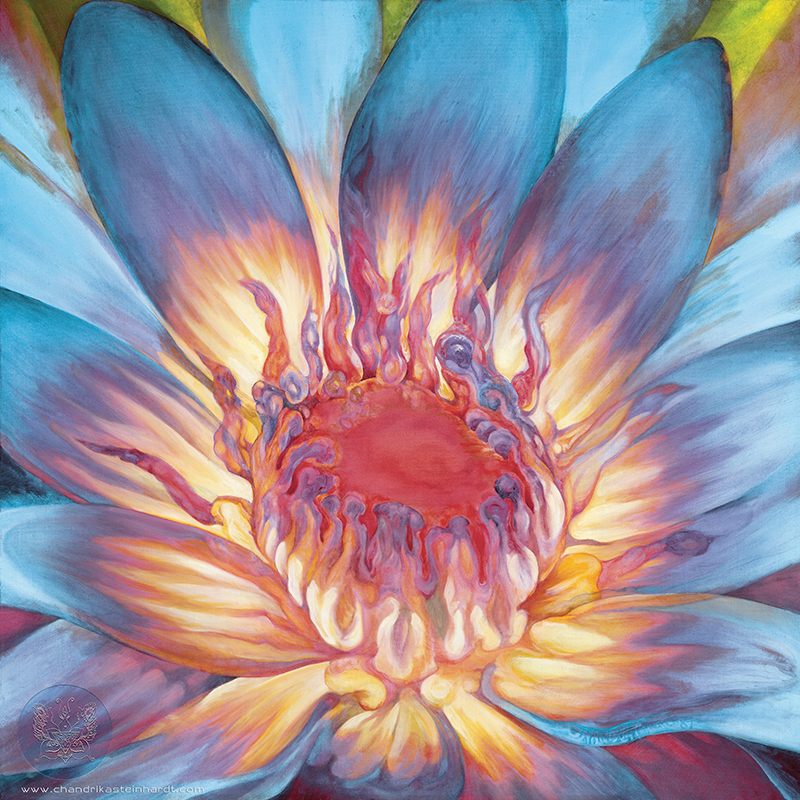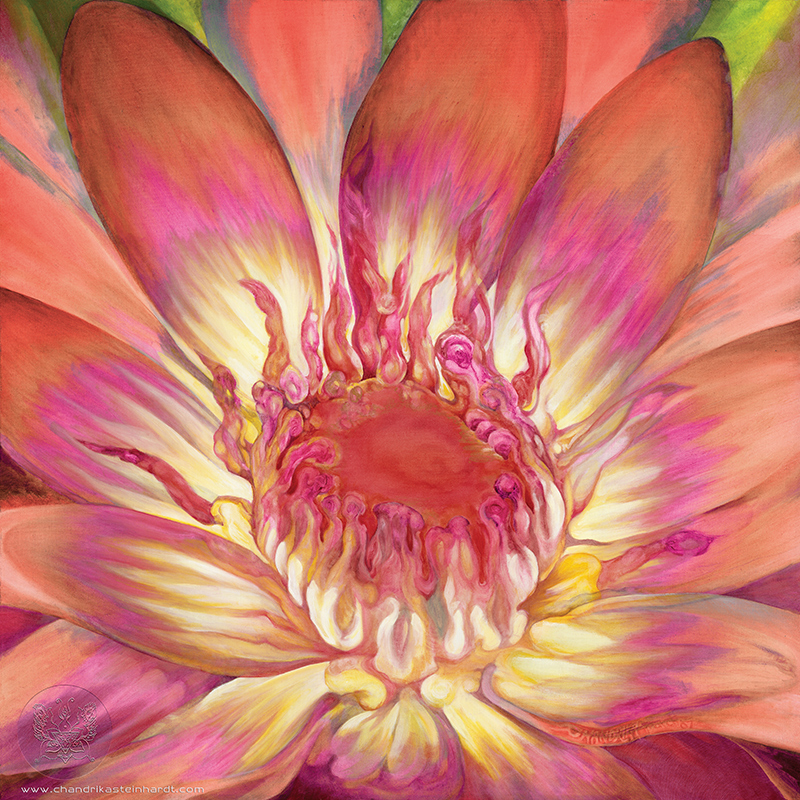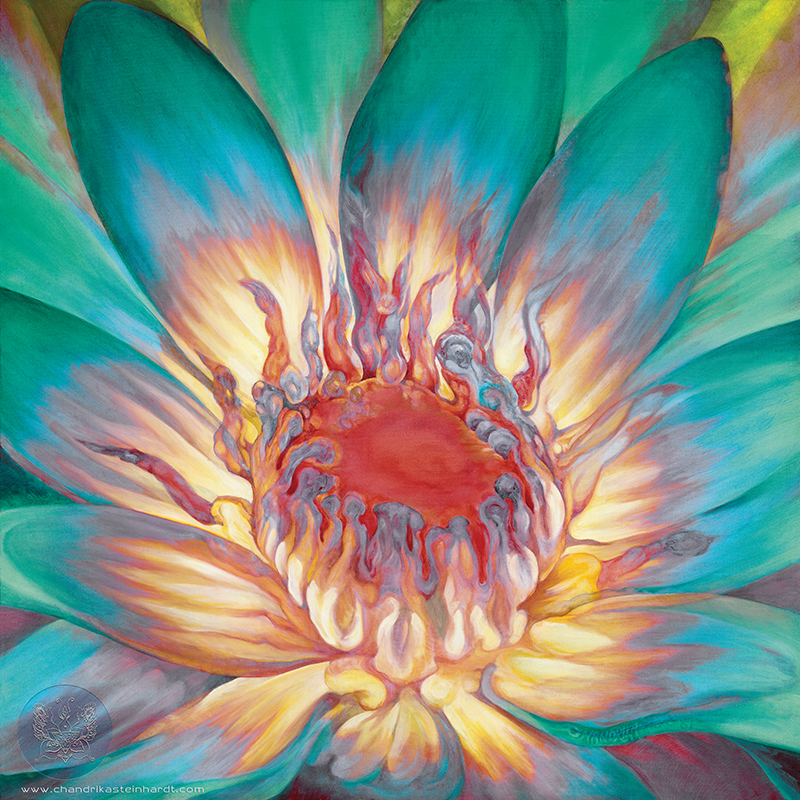 So happy with my printer who does exceptionally beautiful reproductions that show intricate details and the texture of the original canvas painting on a lovely smooth white canvas.
Full size 1m x 1m, half size 55cm x 55cm, prints on high quality fine art canvas. Hand signed by the Artist.
Contact chandrika at evolvingwoman@chandrikasteinhardt.com
Much Love to All..
chandrika