Testimonials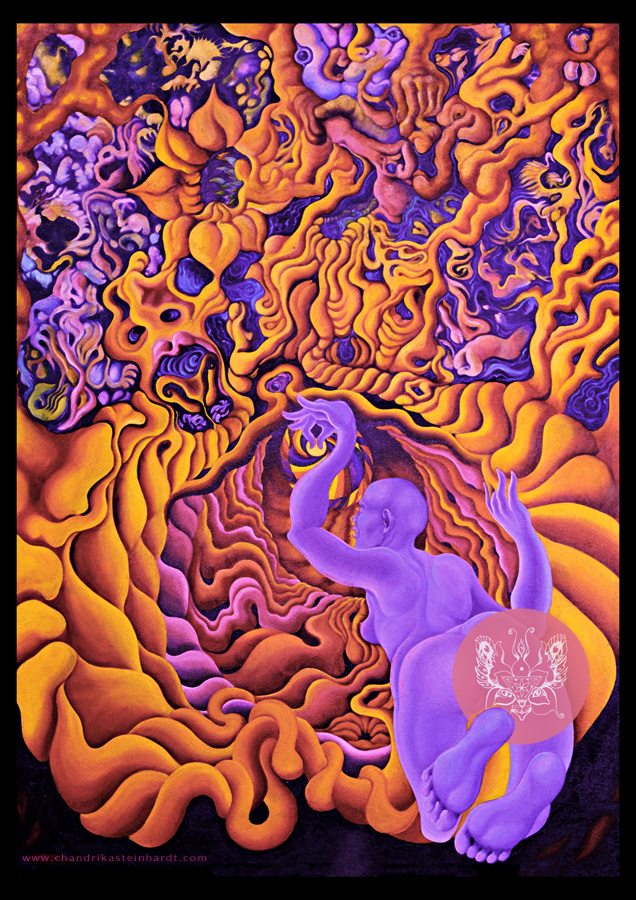 "Be bold and fear no art…if your images are arousing such strong emotions, you are doing something right – carry on!"
21 January 2018 – Mark Henson – Visionary Artist – USA
"Lovely space you have there Chandrika. Much light is shining from your art."
20 January 2018 – Martina Hoffmann – Visionary Artist – USA and Brittany, France.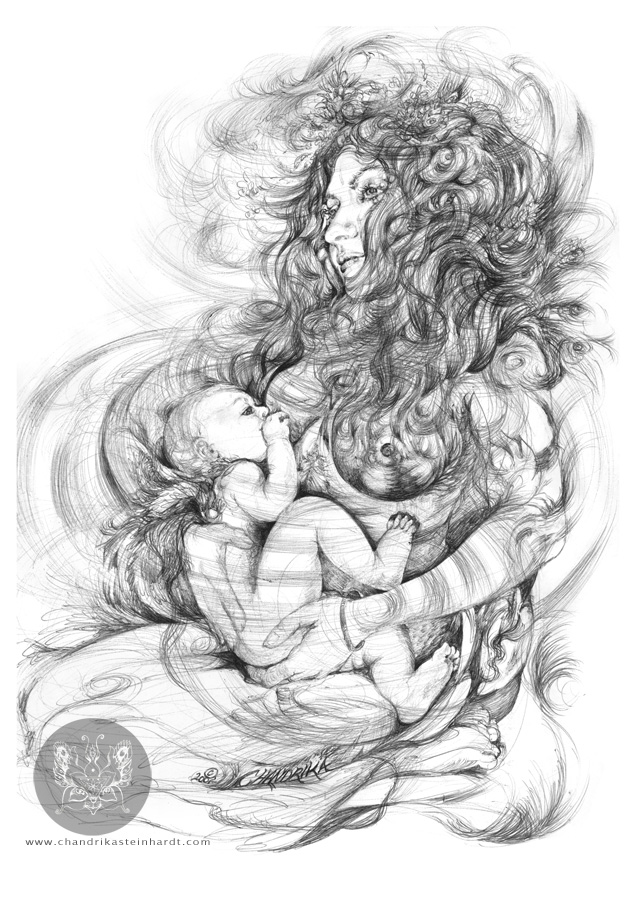 "Your (conscious art) work is really good and not just She (SHe…A Flower Being). You have a lot of depth in your themes and your line is really strong, I just looked again at the drawing you did of the mother and child. You have your own style and that's what makes it good!! Remember the universe doesn't have time for a flower which refuses to bloom. 😉 Assume your beauty and talent dear Chandrika. You have it!!"
26 November 2017 – Liba Waring Stambollion – Visionary Artist Paris, France.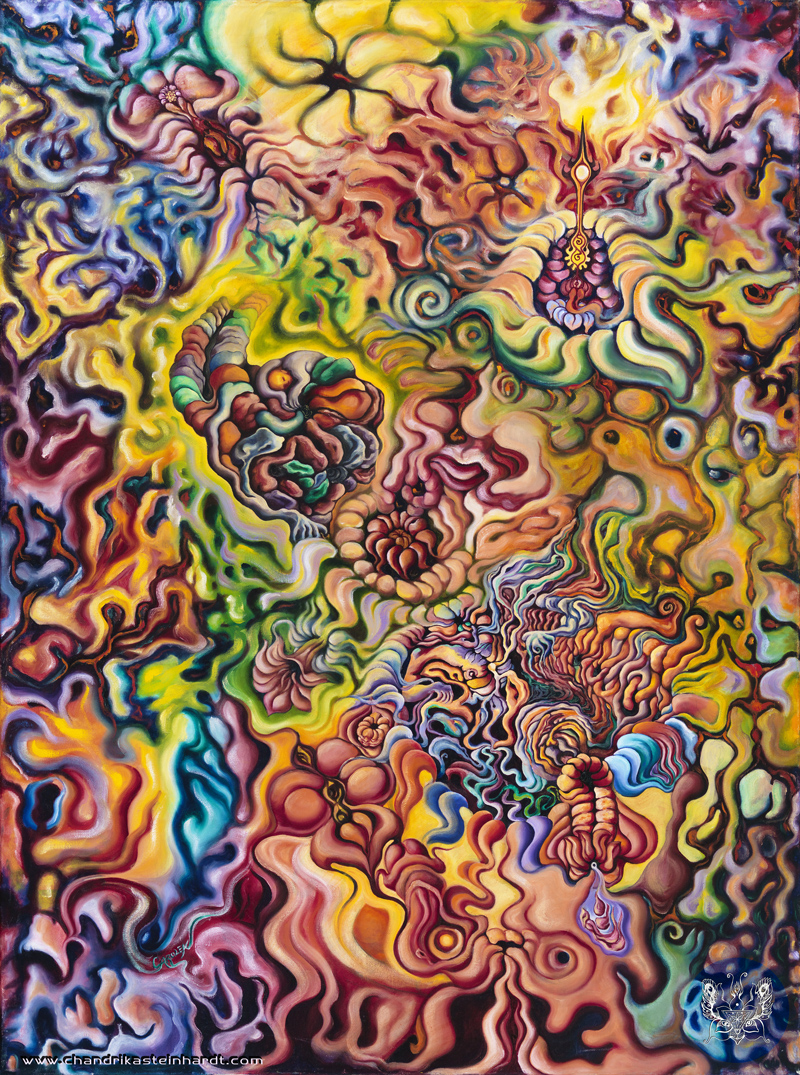 "[This painting 'Conception' is] mind-blowing Chandrika…Shane and I are just talking about how incredible it will be to gaze into this marvelous piece of art you created."
Ana Keeling Solomon – Fine Art Collector
"Bless you Chandrika for transcending my visual experience. So gracious of you to open your heart and bare your Soul. Our family is thrilled to bits knowing you will soon have your place in the heart of our home – welcomed and cherished – powerful force of natural beauty. Thank you, I am deeply honoured."
Shane Keeling – Fine Art collector
"Your paintings are wild and beautiful and telling of many a visionary journey to the deep mythic interior. I browsed your gallery while listening to some of your techno-druidic tunes, which marry the visuals quite well. I found the music vocally reminiscent of the realms of Dead Can Dance. Intuitive, and invocative."
25 August 2018 – The Ungoogleable Michaelangelo (voidandimagination)
"G

ood that you're painting and exploring the mische technique, the piece you worked on (SHe…A Flower Being) in Byron was really fantastic.

"
4 May 2018 – Kuba Ambrose – Visionary Artist – Australia and Vienna.
"Don't bow so much Chandrika!…Your art is incredible!"
28 November 2017 – Don Farrell – Visionary Artist USA and UK
"Your art has something unique, an energy about it…Yay! Get it out there!"
2014 – Kim Evans – Visionary Artist Australia
"Chandrika is also a great Artist, so many incredible artists here tonight, she has amazing work!"
18 August 2018 – Melissa Shemanna – Visionary Artist – Australia
"Wow! your art is beautiful Chandrika. How did you do that background (painting)?…Your Evolving Woman painting was painted in 1992?. This means that you were channelling this way before any of us."
10 October 2015 – Katia Honour – Visionary Artist – Australia
"What a great night, there is nothing like this (Harmonic Temple) in UK!…Your mural has nice fabric. Don't be a stranger on facebook!"
February 2016 @Harmonic Temple Art Exhibit – Daniel Mirante – Visionary Artist – UK
"Wow…that was really powerful Chandrika! ("Art can really move the heart – of the world" – quote by Chandrika)The world needs to hear that, it's up to you whether we use it in the film. We can do another take…or move on. But genuine emotional moments like that are what makes great film"

2014 – Bonny Hut – Visionary Artist – Australia. This was said after a major emotional shift I experienced during the VANA filming project…what felt like a breaking of the shell of ego self, and a coming into speaking my truth after many years of my art being hidden away since 1992 – 22 years.
"Beautiful art work Chandrika!" …"Legendary!"
28 November 2015- Paulie Mann – Visionary Artist – Australia
"Thank you for your honesty Chandrika!… I recommend you contact Martina Hoffmann, and get your work out there!"
2010 – Adam Scott Miller – Visionary Artist – USA. Said after viewing original artwork at Tanks Art Centre, Cairns Mind Body Soul Festival.
"I love your art Chandrika! We (Andrew Gonzalez and I) are waiting for you to publish your Artists Book. You are a 'real' artist!"
2014 – Numa Firefly – Visionary Artist – UK