About
"My purpose is to inspire, nurture, support and protect the creative spirit"
– Chandrika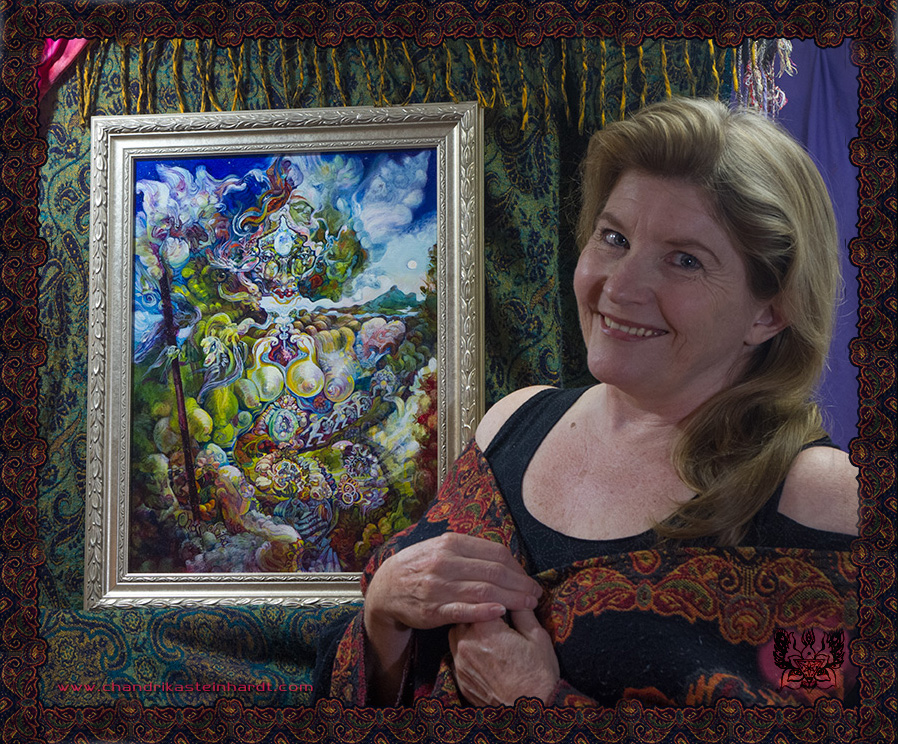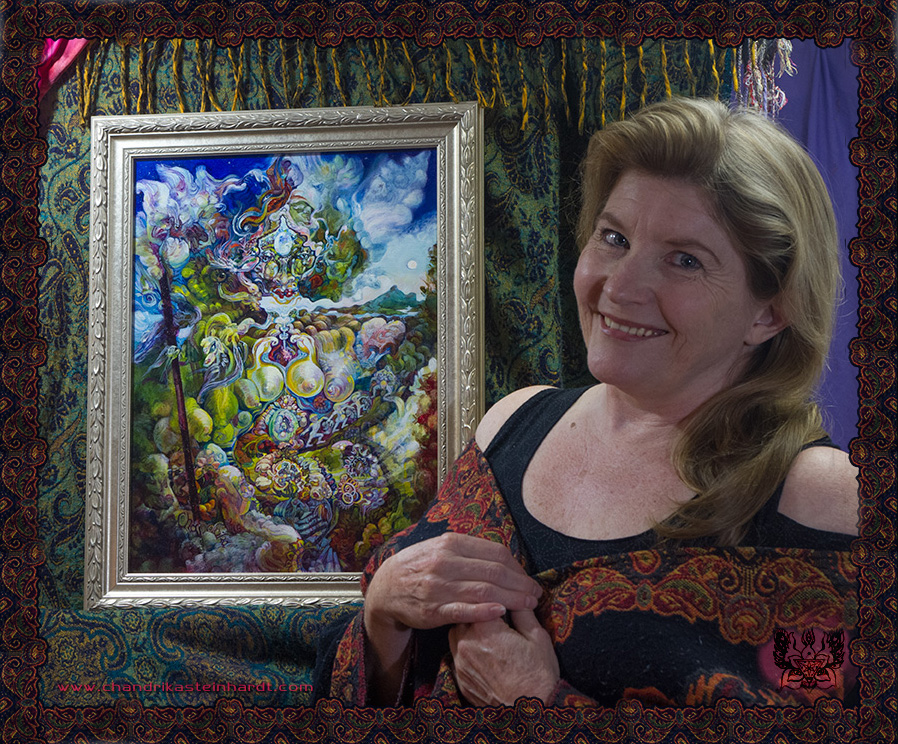 Chandrika Steinhardt is a pioneer of Australian Visionary Art, most notably producing 20+ 1.20m x .90m oil on Belgian linen paintings, documenting her 7 year spiritual journey in sanctuary retreat overlooking Mount Bartle Frere, Wooroonooran National Park, Nth Queensland, 1992 – 1999. She has continued to produce many fine works of art and music, with the latest being 'SHe…A Flower Being', exhibited in Legacy of Light, Austria 2016.

As a Visionary Artist, Teacher, Singer, Poet and Healer, Chandrika is motivated by a passionate love for this Ancient Land, and has become a medium for expressing the numinous spirit of nature through the prism of feminine experience. She is dedicated to supporting the verdant growth of consciousness as a visionary creative soul. She was Art Teacher at Kangia Steiner School, near Mt Warning, Murwillumbah NSW, volunteering hundreds of hours inspiring the children to heart expression through fine art.
She is thrice published in the CoSM Journal (2012, 2014 & 2015). And she is honored to be invited to contribute her latest work to the next exciting edition of the CoSM Journal 2016 which represents some of the finest Artists of the World Wide Visionary Arts Culture.

Chandrika is part of Visionary Art Network Australia, and has been interviewed as part of the Inside Imaginary Realism Series II documentary. She is also featured in the International Visionary Art Gallery.
She is a co-founder of the otherworldly music project double hElyxir, releasing their debut album 'Bird of Prayer' in 2015.
Click here for a list of exhibitions.
History
Currently Chandrika has established an art studio in the beautiful Tweed Valley, Northern NSW, Australia; and continues music co-production at a part time art-music studio in Melbourne.
She was born on the Atherton Tablelands, North Queensland, Australia, and has had studio spaces in Mareeba, Malanda, Yungaburra, and Lake Barrine; Townsville and Magnetic Island; Tyalgum, Limpinwood Valley, Pottsville, Cabarita Beach, Byron Bay, Ocean Shores, The Channon, Lismore and Beaudesert; Kuranda and Lake Placid; Ravenshoe, Mungalli Creek and Millaa Millaa; Armidale, Port Macquarie; Silverton and Adelaide.
At age 29 Chandrika had a life changing awakening experience during a guided meditation. This compelled her to find a teacher to help her connect this newfound awareness with her artistic gift and interest in alternative healing modalities.
She was fortunate to be offered a golden opportunity to study as prodigy of a Master of Fine Art from USA living in retreat at his home overlooking Mt. Bartle Frere, North Queensland; and later at Magnetic Island, QLD. During this seven years of intense full time study, equivalent to a BFA, Chandrika produced a large body of oil on linen paintings and drawings that were in-the-moment historical record of her spiritual journey.
Chandrika embarked upon a process of seeking the light within through Jungian methods of catharsis, which enabled her to go beyond her conditioning. She was fortunate to be given supportive sanctuary, conducive to more in depth development of her numinous style of painting; requiring personal sacrifice of the 'normal life' for years of self chosen isolation. The influence of her mentor, the fiery taskmaster, burnished her independent self guidance allowing her to develop her own ongoing hybridized form of spiritual arts practice.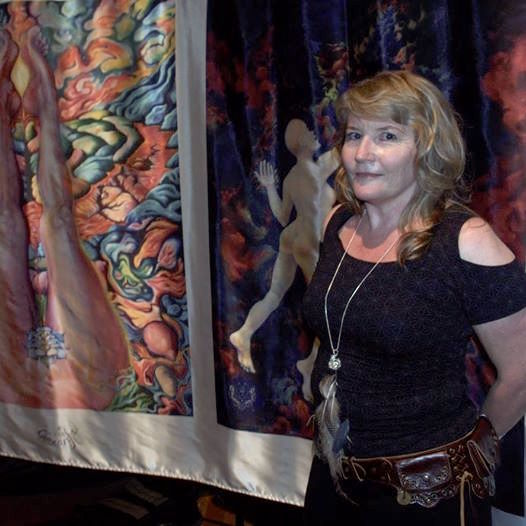 The Master passed on his life's knowledge of the teachings developed by the Spiritual Masters and the Artistic Masters which he had gathered during his pilgrimages to India, plus his study of Comparative Religions and Art History. As a former university Professor, painter and sculptor in California he influenced the youth of the 60's during the Vietnam War and was one of many who participated in the awakening of consciousness during The Flower Power Era. When Chandrika met the Professor he was living as a hermit in retreat from the world, deeply immersed in meditation. He had an aversion to what he called the "new technology internet". And, he had disengaged from his professional identity and family in USA, preferring to remain obscure in order to support his deep contemplation.
As a former WW2 B59 Bomber Pilot, the great giving to his disciple brought healing to his conscience haunted by nightmares of his military service.
By supporting the feminine to aspire to liberation, he knew that his actions would have a future butterfly effect upon many as a testimony and legacy to peace.
Chandrika was raised on a Demeter Registered Biodynamic property and later in life taught Art in the Kangia Steiner School near Mt Warning NSW. She continues to be an inspiring mentor to many who seek creative spiritual evolution. With ongoing art, music and poetry in progress, the journey continues…